Personal Injury & Clinical Negligence barrister, David Regan, has written an article for the New Law Journal titled 'Losing out on the lost years' in the 11 May 2018 issue. The article reviews the developing law on claims for earnings for lost years, and the likelihood that the Supreme Court would allow children to make such claims.  This would have a significant impact on all claims for children whose lives are shortened by negligence.
The full article has been published today in the New Law Journal within their 'Damages' Legal Update section.
To view the full article please click here
View profile: David Regan
"St John's Chambers maintains an excellent reputation at the Personal Injury Bar, being home to a number of the foremost barristers in the space. Members act for both claimants and defendants in a wide array of claims, relating to such matters as RTAs, workplace accidents and occupational disease." Chambers UK, Personal Injury (2018)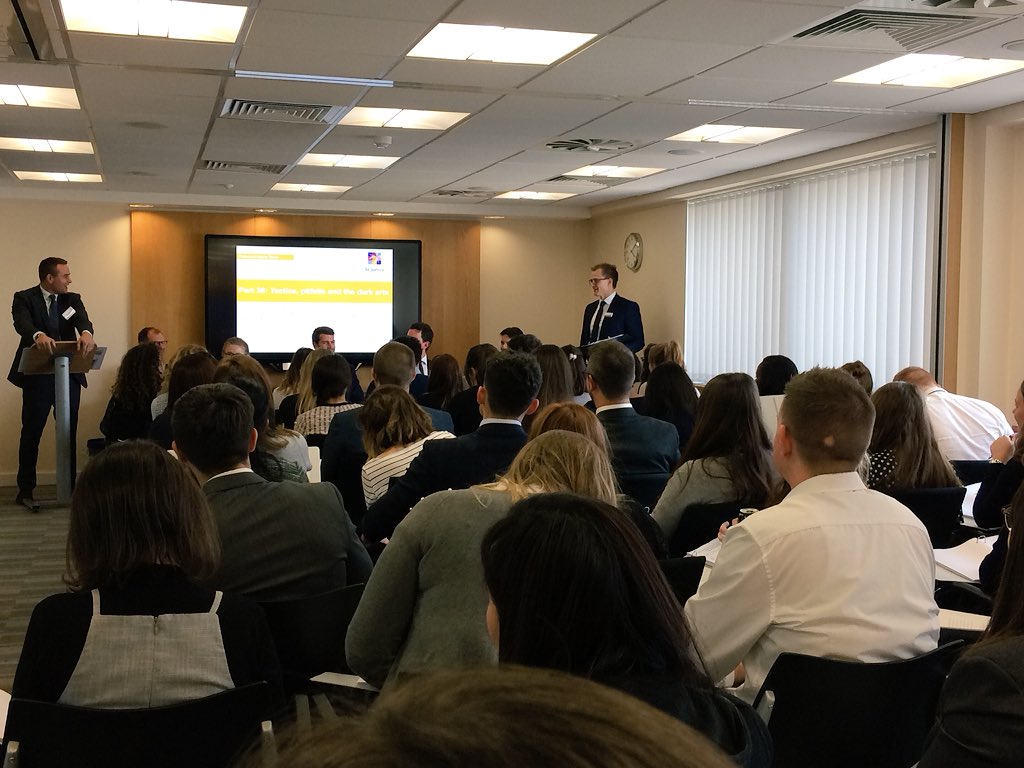 Earlier this week our junior personal injury and clinical negligence team ran their 'The Essential Toolkit for Junior Personal Injury & Clinical Negligence Lawyers' seminar for the second year running. The event, as last year, sold out in a matter of weeks so we shall be looking to run a similar event again later on this year.
Working from the delegate feedback at our previous events last year, this year saw the addition of longer parallel workshops and a "fast paced head line delivery" style first plenary session. In addition to our speakers: Marcus Coates-Walker, Ben Handy, James Marwick, Jimmy Barber, James Hughes & Robert Mills, we also welcomed our new personal injury and clinical negligence tenant, Rachel Segal, to the mix of speakers alongside our Head of Clinical Negligence, Vanessa McKinlay, who kindly chaired the event.
Talks from the day included a very popular 'mock CCMC performance' from Ben Handy (HHJ Handy); James Marwick (for the defendant) and James Hughes (for the claimant) which was described by delegates as a "very helpful demonstration" and "very entertaining, useful to see role play of hearing". Other sessions included: Are the courts re-defining the scope of the duty of care in clinical negligence?; A roundup of important decisions in 2017/2018: road traffic accidents, employers' liability and public liability; Part 35 and Part 18 questions: when and what to ask and when to answer; A roundup of important decisions in 2017/2018: clinical negligence; A workshop on fatal accident act claims and the final plenary: Part 36: tactics, pitfalls and the dark arts.
Delegates gave excellent feedback with comments such as:
To follow live tweets from the day search #Essentialtoolkit18 on Twitter.
If you missed this event be sure to put you name down on our waiting list for the next one by contacting Anita Young on or 0117 923 4770.
Justin Valentine
, specialist personal injury and clinical negligence barrister, has published a case note about the recent case of G v NHS Commissioning Board, focussing on (i) Erb's palsy with potentially posterior shoulder dystocia and (ii) NHS resolution approach to settlement.
Shoulder dystocia is a serious complication of delivery where one of the baby's shoulders gets impeded usually behind the mother's symphysis pubis. It is an obstetric emergency which must be resolved quickly. It is associated with brachial plexus injury but there is a school of thought that such injury is entirely avoidable. In this case note Justin discusses the issues raised in a recent case of probable posterior shoulder dystocia which, in the event, was compromised.
Download article: G v NHS Commissioning Board
Justin undertakes clinical negligence work with experience of a wide variety of claims including spinal injury, nursing care, psychiatric treatment, cosmetic surgery errors, misdiagnosis/delay in diagnosis, orthopaedic injuries, incorrect prescription, negligent dental treatment, surgical injuries, catastrophic and fatal injury claims.
If you would like to instruct Justin on a related matter please email his clerks on: .
Earlier this week our Real Estate Team hosted their first in-house free training session in our 'Building Blocks | bite size property training sessions' series. The session included the following talks: Procedure in the First-Tier (Property Chamber); The Business and Property Court: Rethink, reform or just rebrand?; Adverse possession: the different statutory regimes and requirements; A practical guide to boundary disputes. Speakers included two senior members: Charles Auld and John Sharples, and two members of our Junior Insight Series: Natasha Dzameh and Charlie Newington-Bridges.
The seminar was described as "very informative and engaging " and "All speakers excellent, informative & communicated diverse & complex information very well. Excellent course."
 To view live tweets from the series so far and for information via Twitter please search #SJCbuildingblocks.
Our next session in the series will be held here at St John's Chambers on Tuesday, 22 May with the following talks and speakers:
For further information of the rest of the series please click here. Don't forget to book your free place on our next session via the following channels: or 0117 923 4770
Family law barrister, Lucy Reed alongside an author team from The Transparency Project have written a book titled 'Transparency in the Family Courts – Publicity and Privacy in Practice', printed by Bloomsbury Professional. The foreword is written by Sir Andrew McFarlane, the incoming President of the Family Division, and is essential reading for family law practitioners in private practice, local authorities and other public bodies, as well as media lawyers, journalists and social workers.
Transparency in the Family Courts Publicity and Privacy in Practice clarifies what transparency means in practice for professionals and families involved in the family courts, and provides guidance on privacy in family law cases and their reporting in the media. This new title provides full coverage of the implications of the 2014 Guidance on publication of judgments and much more.
"With the publication of this work, there will be no need to look elsewhere for an account of the law relating to transparency in family proceedings and this will rapidly become the ' go-to ' book on the subject, not just because it is the only one but because of the comprehensive, clear and insightful nature of its coverage."
Sir Andrew McFarlane
The team of authors include Julie Doughty, a Lecturer in Law in the School of Law and Politics at Cardiff University, and Paul Magrath, a Barrister with the Incorporated Council of Law Reporting for England and Wales.
Lucy will be speaking at the 'Bloomsbury Professional Family Law Conference' on 16th May 2018 at Gray's Inn on 'Transparency – why it matters, what it means'.
To book your place visit this page.
Lucy is also the author of The Family Court without a Lawyer – A Handbook for litigants in person (Bath Publishing, 3rd Edition 2017) and the award-winning 'Pink Tape' blog, and the Chair of The Transparency Project.
Head of our Wills and Trusts team, Alex Troup, instructed by Vlad Macdonald-Munteanu of Hugh James successfully represented Mrs Thompson in the recent High Court case of Thompson v Raggett [2018] EWHC 688 (Ch).
Mrs Thompson brought a claim for reasonable financial provision under the Inheritance (Provision for Family and Dependents) Act 1975 against the estate of her late partner and cohabitee, Mr Hodge, whose will left his whole estate, valued at over £1,5 million, to his tenants. The estate mainly consisted of a caravan park and farm in West Wales.
The High Court granted Mrs Thompson an outright transfer of a cottage, valued at £225,000, which Mr Hodge had purchased specifically for him and Mrs Thompson to live in during their retirement. Mrs Thompson was also granted a lump sum of £160,000 for her future maintenance and care, plus a further £28,845 to renovate the property and facilitate her moving in.
In his letter of wishes accompanying his last will, Mr Hodge claimed that Mrs Thompson had substantial sums and finances to provide for herself, but the court accepted that Mrs Thompson was in fact financially dependent upon him. Given their 42 years of cohabitation and the unpaid work she carried out on the caravan park and farm, coupled with her financial dependency, she was awarded approximately 33% of the net estate.
The Court's decision to grant Mrs Thompson an outright interest in the cottage is significant given that in Ilott v The Blue Cross [2017] 2 WLR 979 the Supreme Court indicated that if housing is provided by way of maintenance it is likely more often to be provided by way of life interest.
The key drivers behind the Judge's decision to grant an absolute interest in the cottage were (a) the long period of cohabitation, (b) the cottage had been bought specifically to provide Mrs Thompson with a home, (c) the beneficiaries under the will had adopted Mr Hodge's aversion to Mrs Thompson's son (who would be caring for her) receiving anything, and (d) an outright interest would allow Mrs Thompson to make the necessary alterations to the cottage without having to seek permission.
If you would like to instruct Alex on a chancery matter please contact his clerks:
Christopher Sharp QC (a member of the Pensions Advisory Group) outlines the nature of the new interim report and consultation launched by the PAG on 18th April 2018.
In 2014 Cardiff University's Nuffield Foundation funded paper 'Pensions On Divorce: an empirical study' provided a detailed investigation into how pensions are actually dealt with in financial remedy cases. It found that the use of pension orders was much less than the government had expected (of the 369 court files studied, 80% revealed at least one relevant pension and yet only 14% contained a pension order) and that off setting pensions against non-pension assets was the most commonly used solution. However, it also found that the economic rationality of that approach, the methodology employed and the fairness of the outcomes it produced was far from clear. An example of the unsatisfactory nature of the arguments deployed in such cases can be seen in the case of WS v WS [2015] EWHC 3941 (Fam) which also highlighted the problems where no expert evidence was available. Another example of the Court being unassisted by expert evidence was seen in the series of decisions in Goyal v Goyal. Case law is neither consistent nor very helpful. Most reported cases involve very substantial sums and as a consequence are sometimes of limited assistance in the more mainstream case where funds are more modest.
The Nuffield Foundation has now published the report of an interdisciplinary working group The Pensions Advisory Group (the PAG) which was set up to address these issues, the object being to improve the practice of dealing with pensions on divorce and to assist those divorcing couples who are not fabulously wealthy but nevertheless hold pensions of some value. The PAG is a multi-disciplinary working group jointly chaired by Francis J and HHJ Edward Hess with the support of the Family Justice Council and the President of the Family Division. Its report is entitled 'Pensions on Divorce Interdisciplinary Working Group'.
The report can be found here: www.nuffieldfoundation.org/pensions-divorce-interdisciplinary-working-group
The intention is to promote feed back by way of wide consultation. The report is divided into two parts. First there is a section entitled "Legal Issues: draft guidance for consultation". This seeks to set out the law as the PAG see it, to provide information to assist in understanding the issues raised in pension cases and to suggest good practice.
Second there is a section entitled "Valuation and Expert issues: Draft guidance for consultation" The purpose of this part of the report is to consider best practice in respect of the treatment of pensions in divorce proceedings, and to report on any consensus reached among a wide range of experts and lawyers as to how the valuation of pensions in divorce cases should be approached. The aim of this section of the PAG report is to enable a more standardised approach across experts and cases, ensuring better consistency in outcomes for divorcing parties and making these more predictable for individuals, lawyers, experts and judges. The report also considers the circumstances in which it might be beneficial to engage the services of Pensions on Divorce Experts (PODEs).
The report is the result of extensive work and discussion by a large group of experts from a broad range of backgrounds with the immense assistance of Hilary Woodward of Cardiff Law School. It is hoped that it will prompt wider discussion and feedback so that some authoritative guidance can be issued to assist with this difficult area of financial remedy work.
Anyone with involvement in this area of work is encouraged to respond to the consultation.
Member of our Family Team, Lucy Reed, has recently published an article for Bloomsbury Law Online titled 'Lucy Reed on Transparency in the Family Courts'. The article looks at why transparency is important and why attempts by local authorities to manage reputations can be counterproductive. In addition to her online publication Lucy has also co-authored a new book 'Transparency in the Family Courts: Publicity and Privacy in Practice' which is available from Bloomsbury. She will also be co-presenting a talk on Transparency in Chambers this summer, as part of our free family training session series.
Please contact her clerks  | 0117 923 4720
Specialist family finance barrister, Andrew Commins recently launched his new website 'The Financial Remedy Channel'. The Financial Remedy Channel provides a dedicated online resource for solicitors, barristers and other professionals specialising in the law of family financial provision. Andrew provides readers with the latest news and procedural updates, judgments and analysis to support and develop any specialist's practice. The site is designed to be modern, easy-to-navigate with relevant and interesting material, and as far as possible, no stuffy, wordy and dreary content.
To showcase this new website, St John's Chambers hosted a party and networking event on 27 March in Chambers which saw over 50 attendees including solicitors and financial advisors. During the night, guests had the opportunity to win a fantastic hamper when they subscribed to The Financial Remedy Channel which would allow them to receive the free fortnightly updates. With the success of the launch event the Channel now has over 200 subscribers having only just gone live!
You can also subscribe for free anytime via the website www.financialremedychannel.co.uk.
We wish Andrew every success for The Financial Remedy Channel, which will only enhance and showcase many aspects of his written family finance law.
Bristol Law Society's 'Barrister of the Year 2017', Natasha Dzameh, is now a member of the Commercial Bar Association (COMBAR). Unlike many Specialist Bar Associations, admission to membership of COMBAR involves external consideration of an individual's practice and requires approval by a COMBAR sub-committee.
Natasha has received instructions on a wide variety of commercial cases including banking and finance litigation (Bankers Trust orders, guarantees, hire agreements, indemnity claims, payment instructions etc), construction (defective works, design flaws, latent defects, retention, short measures and validity of pay less notices), company and partnership disputes, debt recovery, equine contracts involving competition level horses, intellectual property, malicious falsehood, sale of goods, supply of goods and services and technology contracts.
Natasha has dealt with consumer credit, conversion, data protection, defamation, dishonest assistance, enforceability concerns, Francovich claims, freezing orders (including worldwide freezing orders), insurance (coverage, undervaluation etc.), interim injunctions, misrepresentation, unjust enrichment and wrongful interference. She is happy to apply her knowledge to specialist sectors such as sports law when required and she has an excellent understanding of carriage contracts. Natasha has been instructed by the GLD's commercial litigation team and also accepts instructions on international commercial disputes. During pupillage she gained experience of worldwide freezing orders in relation to a US judgment for a sum in excess of $180 million.
View profile: Natasha Dzameh
If you would like to instruct Natasha on a commercial matter, please contact her clerks:   or 0117 923 4740.