James Marwick, personal injury barrister, provides a case law update in the judgment handed down today in the Court of Appeal in the case of Cartwright v Venduct Engineering Limited [2018] EWCA Civ 1654.
This was a leapfrog appeal from the judgment of Regional Costs Judge Hale on a fundamental question under the QOWCS regime, namely the entitlement of a defendant to enforce an adverse costs order against damages recovered by a claimant from a co-defendant.
The Court of Appeal's decision has important ramifications for the approach to multiple defendant litigation in personal injury proceedings.
The Court of Appeal has now held that a co-defendant can take advantage of sums paid to a claimant by another co-defendant on a proper construction of CPR44.14(1).
In fairly striking terms, Lord Justice Coulson considered that any other result would give a claimant carte blanche to commence proceedings against as many defendants as he or she likes, requiring those defendants to run up large bills whilst remaining safe in the knowledge that if the claim failed against one of those defendants, he or she will incur no costs liability.  Accordingly, the Court of Appeal found that the Costs Judge was right to conclude that a defendant could enforce its costs order out of damages and interest recovered from another defendant (up to the limit of the order for damages).
The Court of Appeal did, however, also find that the defendants in the present case (a multi-party NIHL case which had been resolved by a Tomlin order) were stymied because the sums payable pursuant to a schedule of a Tomlin order were not sums within the meaning of CPR44.14(1).
Lord Justice Coulson did reference in his judgment that the circumstances of cross-enforceability he was considering were those where a Bullock or Sanderson order was inappropriate and thus where a defendant had been freely sued.   On first impressions, there will have to be a renewed focus (as there was pre-QOWCS) on the underlying merits and reasons for pursuing multiple defendants before embarking on multi-party litigation.
View judgment: Cartwright v Venduct Engineering Limited [2018] EWCA Civ 1654
View profile: James Marwick
Earlier this summer members of our personal injury team took part in the annual Bath Boules tournament on 16 June in Queen Square, Bath. The event sees over 64 teams compete in a number of heats with two finalists boule'ing it out for the coveted trophy.
This year we are proud to announce that our team of four, from left to right as pictured in the above photograph: Head of Personal Injury, Glyn Edwards, James Marwick, Richard Stead and James Hughes won the tournament!
St John's Chambers have been a 'Little Boules Sponsor' for five years, and each year we have taken part in the tournament, so we are delighted to have finally won. The annual event hosted in Bath raises money for local charities via the Bath Boules Trust, last year the event raised over £50,000 and we are hoping that this total has increased with this year's event.
Thanks to all who attended, donated and took part and made this year's event one not to forget!
Andrew McLaughlin, who has been reappointed by the Attorney General to the Government A Panel of Counsel, has successfully defended a claim for £1.4m brought by Nicola Ward, a former Sergeant and nurse in the RAF, against the Ministry of Defence for devastating psychiatric injury allegedly caused by bullying and harassment at work between 2013 and 2015.
The Claimant was represented at trial by Mark Evans QC (Clerksroom) and Alex Fletcher (218 Strand) and for the previous three years by Jonathan Dingle (218 Strand). The case was listed for nine days at Oxford Combined Court Centre before the Designated Civil Judge HHJ Melissa Clarke.
Twelve witnesses were called by the Claimant, six by the Defendant. The Claimant alleged she had been unfairly upbraided by her senior commanding officer at the medical centre on base, was subjected by him to a campaign of discriminatory conduct, was excluded from the chain of command and the management team at the medical centre, stripped of Acting Flight Sergeant rank and the pay that came with it, humiliated in front of the nursing department, downgraded on a reference for promotion, and was then stalked after going off sick.
The Claimant and her witnesses were cross-examined by Andrew over four days before the defence witnesses were called. At the end of the witnesses' evidence on day 6 the Judge decided to rule on liability before the medical experts and employment consultants were due to be heard. HHJ Melissa Clarke rejected the entirety of the Claimant's allegations. She found the Claimant was neither bullied nor harassed. She held that the alleged stalking did not happen. The claim was dismissed with costs.
Andrew has been involved in a string of high-value stress-at-work, bullying and harassment claims which he has resisted successfully at trial, some of which are available on Lawtel.
If you would like to instruct Andrew on any related matter, please contact .
Personal injury and clinical negligence barrister, David Regan, has written an article for the New Law Journal titled 'Losing out on the lost years' in the 11 May 2018 issue.
The article reviews the developing law on claims for earnings for lost years, and the likelihood that the Supreme Court would allow children to make such claims.  This would have a significant impact on all claims for children whose lives are shortened by negligence.
The full article has been published today in the New Law Journal within their 'Damages' Legal Update section.
To view the full article please click here
View profile: David Regan
"St John's Chambers maintains an excellent reputation at the Personal Injury Bar, being home to a number of the foremost barristers in the space. Members act for both claimants and defendants in a wide array of claims, relating to such matters as RTAs, workplace accidents and occupational disease." Chambers UK, Personal Injury (2018)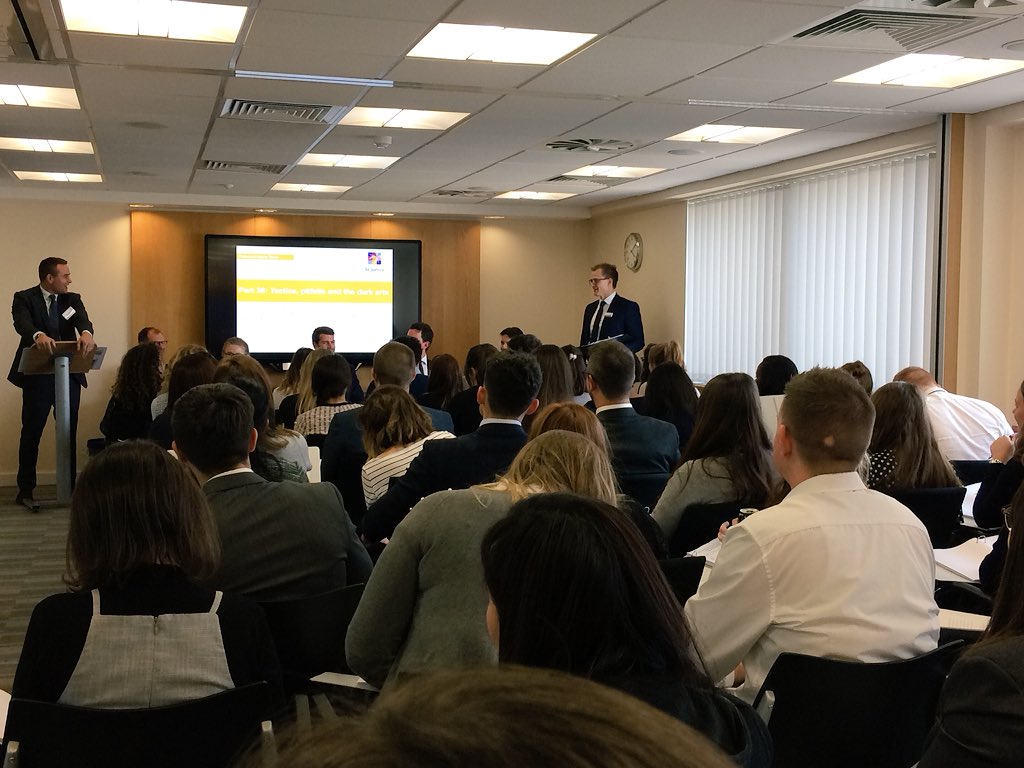 Earlier this week our junior personal injury and clinical negligence team ran their 'The Essential Toolkit for Junior Personal Injury & Clinical Negligence Lawyers' seminar for the second year running. The event, as last year, sold out in a matter of weeks so we shall be looking to run a similar event again later on this year.
Working from the delegate feedback at our previous events last year, this year saw the addition of longer parallel workshops and a "fast paced head line delivery" style first plenary session. In addition to our speakers: Marcus Coates-Walker, Ben Handy, James Marwick, Jimmy Barber, James Hughes & Robert Mills, we also welcomed our new personal injury and clinical negligence tenant, Rachel Segal, to the mix of speakers alongside our Head of Clinical Negligence, Vanessa McKinlay, who kindly chaired the event.
Talks from the day included a very popular 'mock CCMC performance' from Ben Handy (HHJ Handy); James Marwick (for the defendant) and James Hughes (for the claimant) which was described by delegates as a "very helpful demonstration" and "very entertaining, useful to see role play of hearing". Other sessions included: Are the courts re-defining the scope of the duty of care in clinical negligence?; A roundup of important decisions in 2017/2018: road traffic accidents, employers' liability and public liability; Part 35 and Part 18 questions: when and what to ask and when to answer; A roundup of important decisions in 2017/2018: clinical negligence; A workshop on fatal accident act claims and the final plenary: Part 36: tactics, pitfalls and the dark arts.
Delegates gave excellent feedback with comments such as:
"These sessions are great for junior lawyers & pitched at right level."
"Informative day and the choice of topics were all highly relevant and useful. Great, charismatic speakers, enjoyed the day."
"Very enjoyable session – well-presented and highly beneficial."
To follow live tweets from the day search #Essentialtoolkit18 on Twitter.
If you missed this event be sure to put you name down on our waiting list for the next one by contacting Anita Young on or 0117 923 4770.
We are delighted to announce that our members Kathryn Skellorn QC and Emma Zeb have each been appointed to sit as a Recorder by the Judicial Office. The appointments will take effect from 4 April 2018
Kathryn and Emma have been deployed to sit on the Western Circuit.
Head of Chambers, Susan Hunter says "I am delighted to hear that Kathryn and Emma have been appointed as Recorders and I have no doubt they will show the same talent and commitment to the service of the wider public as they do in their practices."
This year's appointments sees a total of 133 Recorders appointed. A full list of the 2018 Recorder appointments along with their circuit allocation and deployment can be viewed by clicking here.
Kathryn Skellorn's CV can be found here.
Emma Zeb's CV can be found here.
Congratulations once again to both Kathryn and Emma
Following the success of our 'Inquests and The Coroners' Courts Support Service Seminar' sponsored by Renvilles last December, we are pleased to announce that a grand total of £930 was raised for the charity, an independent voluntary organisation whose trained volunteers offer emotional support and practical help to bereaved families, witnesses and others attending an Inquest at a Coroner's Court. Beverley Radcliffe, CCSS Director says "That's fantastic and once again, thank you for organising and hosting the event – we really did appreciate it."
The event provided a personal insight into the support service from members of the CCSS and an overview of recent legal development in the field. Our Complex & Serious Inquest Team is the only one on the Western Circuit to be recommended in Legal 500, with both speakers, Tom Leeper and Emma Zeb, also being recognised as Leading Juniors. The Team often represents bereaved families, as well as government departments and agencies, such as the MOD, MOJ, and health authorities, in lengthy and complex inquests, that attract considerable media coverage. The Team is renowned for both technical expertise and great advocacy skills in what are inevitably highly sensitive and emotive proceedings.
Guest speakers included our seminar Chair, HM Senior Coroner for the Area of Avon, Maria Voisin; Roey Burden, OBE, Beverley Radcliffe and Margaret Briggs of The Coroners' Courts Support Service; Mike Bird, Enable Law; Mike Renville, Renvilles and Lisa O'Dwyer of AvMA.
The seminar received excellent feedback with comments such as:
"Excellent content, useful to gain understanding of the role of the CCSS and helpful updates."
"Informative and comprehensive seminar, thank you."
Patrick West, a member of St John's Chambers' Personal Injury Team, provides readers with an article on occupational illnesses and the test of employer's liability for common law negligence. Patrick refers to the case of Veronica Bussey (Widow & Executrix of the estate of David Edwin Anthony Bussey) v 00654701 LTD (Formerly Anglia Heating LTD) [2018] EWCA Civ 243.
"There are currently around 2,500 deaths from mesothelioma each year in the UK." (NHS Choices website 2018)
Let that sink in. That means that in this country nearly 7 people a day are dying from the most devastating of all occupational illnesses. But it is perhaps not at all surprising given that mesothelioma can be caused by the victim ingesting only a single fibre of asbestos. In the case of Bussey the Court of Appeal has examined whether there is a narrow test for breach of duty following the findings in Williams v University of Birmingham [2011] EWCA Civ 1242 which appeared to establish a need for Claimants to show they were exposed to greater concentrations of asbestos fibres then the "safe" level set out in the TDN13 (March 1970 and January 1971 Technical Data Note 13 (TDN 13), Department of Employment and Productivity).
To continue reading full article please click the following link: Asbestos and minimal risk: Is there a threshold?
View profile: Patrick West
If you would like to instruct Patrick on a related matter please contact his clerks via email on 
Following the success of our SIA Conference and Drinks Reception in November 2017; sponsored by Renvilles and Nestor, we are pleased to announce that the funds raised through ticket sales, donations and the raffle reached £5,400. The Spinal Injuries Association (SIA) is the leading national user-led spinal cord injuries charity. Their belief is that everyone has a right to live a fulfilled life and that means the life that they choose, a life that has the same opportunities as everyone else.
The full day conference included talks from leading consultants, St John's Chambers barristers and two members of the SIA. Delegates gave great feedback to include comments such as:
"Excellent conference, interesting and engaging seminars."
"A really excellent speaker! Great content and analysis."
Patrick West, a member of St John's Chambers' Personal Injury team, provides readers with an article on the recent case of Robinson v Chief Constable of West Yorkshire [2018] regarding a lady who was knocked over during an arrest and later sued for personal injury in negligence.
Everyone who has passed through law school will remember the case about the snail in the ginger beer. Poor old Mrs Donoghue. A smaller number will recall Caparo Industries Plc v Dickman [1990] 2 AC 605, a much drier case all about accountants. The latest inheritor of tortious principles is poor Mrs Robinson, knocked down in a busy shopping street by a group of policemen arresting a drug dealer. Since 1990 we should all have been reasonably clear about duty of care and when it arises. But many of us including, it appears, the Court of Appeal, are beset with "uncertainty and confusion" about it.
To continue reading full article please click button below.
Download full article: It's a fair cop: Supreme Court reviews duty of care
View profile: Patrick West
If you would like to instruct Patrick on a related matter please contact his clerks via email on