Bristol Law Society's "Barrister of the Year 2017", Natasha Dzameh, will be speaking at the Bristol Law Society's Dispute Resolution Conference on 3 July 2018. She will be discussing the current position in respect of litigants in person and vexatious litigants as well as providing guidance on how to deal with them. Natasha is a member of our commercial and chancery practice group.
The conference covers a wide variety of hot topics for litigators, particularly those involved in commercial disputes. The speakers are representatives of the Bristol and London Bar, law firms and the judiciary (including QCs).
---
View: Natasha's Profile
Download: Dispute Resolution Conference Programme and Delegate Booking Form
To book a place via the BLS complete the Delegate Booking Form and return to Clair Ponting, events@bristollawsociety.com or send by post to Bristol Law Society, 12 Colston Avenue, Bristol, BS1 4ST
If you would like to instruct Natasha as counsel on a commercial or chancery matter, or as a mediator, please contact her clerks on:  or 0117 923 4740
Clinical negligence specialist, Robert Mills has successfully represented the Claimant at the Royal Courts of Justice in London on 11th June 2018, in a claim for extensive restorative treatment arising out of a wide range of negligently performed dental treatment. The Claimant was awarded the highest general damages award ever reported in a dental negligence case in the sum of £65,000.00. Total damages were again the highest reported in a dental claim and amounted to over £160,000.00.
There were four elements to general damages:
 The loss of nine otherwise healthy teeth.
 37 unnecessary items of dental treatment including crowns and root canal fillings.
Occlusal problems such that the Claimant had only three contact points in her mouth and was unable to eat hard foods.
Psychological injury in the form of post-traumatic stress disorder and specific phobia anxiety relating to dental treatment.
The Judge described the treatment provided by the Defendant dentist as "appalling".
Robert was instructed by Katie Parr of Royds Withy King.
If you would like to instruct Robert Mills in any dental negligence matter, please contact his clerks on 0117 923 4730 or email:  
Leslie Blohm QC, one of the country's foremost chancery barristers, with experience of appearing in front of the highest courts in wills and trusts cases, has recently been instructed in the latest farming case to consider a claim to the family farm by a farmer's child. Instructed by Robert James of Thrings, Leslie successfully acted for the Claimant in Gee v Gee [2018] EWHC 1393 Ch.
The Claimant, now sixty years old, sought to succeed to the farm he was promised over decades. His father had recently given his interest in the family farm and the family farming company to his other son, a property developer. The case was complicated by the total denial by both the father and the other son of any promises being made to the Claimant, the nature of the promises that were claimed (relating to the 'lion's share' of the farm), and the fact that the mother had already given her share of the farm and company to the Claimant son to try to remedy what she saw as unjust behaviour.
Mr Justice Birss heard evidence over five days and awarded the Claimant son his expectation interest, but with the detailed order to await a subsequent hearing.
Download judgment: Gee v Gee [2018] EWHC 1393 Ch
Leslie is at the forefront of many farming estate cases having recently represented Lucy Habberfield in her claim against her mother for a share of her mother's and father's farm, relying on many promises said to have been made to her during the period when she worked on the farm for low wages and for long hours.  He also represented the Claimant  in the case of Davies v Davies [2014] EWCA Civ 568 (the 'Cowshed Cinderella' case), both in the High Court and in the Court of Appeal, in her claim to an entitlement to or interest in the family pedigree Holstein/Friesian dairy farm resulting from years of underpaid work.
If you would like to instruct Leslie on a related matter please contact his clerks: 0117 923 4740 or 
Christopher Sharp QC
, who is acknowledged by Chambers UK as one of only five star Silks in family law in the country has written an article for the Summer edition of the FLBA's 'Family Affairs' magazine.
The article continues Christopher's regular reviews of the more important recent financial remedy cases, written for and published within FLBA's 'Family Affairs', this one covering the period from February to May 2018. All updates are also available to download from Christopher's online website profile.
To view the full article please click the following link: Financial remedy update June 2018
If you would like to instruct Christopher on a related matter please contact his clerks: 0117 923 4720 or email
Nick Pointon successful in landmark Jersey Court of Appeal decision on the standing of lawyers (and other fiduciaries) to sue for breach of confidence
Nick Pointon, member of our Commercial and Chancery Practice Group, together with Advocate James Dickinson of Dickinson Gleeson, acted for the successful party, Advocate Philip Sinel, in landmark proceedings before the Jersey Court of Appeal (Bompas JA, McNeill JA and Wynn-Williams JA). The proceedings concern the standing of lawyers to sue for breach of confidence relating to documents and information generated in the privileged context of a lawyer / client relationship.
Advocate Sinel brought proceedings against Mdme. Moira Hennessy (of the Hennessy Cognac family), who received a package of highly confidential documents which had very likely been wrongfully obtained from either Advocate Sinel or his client. Mdme. Hennessy brought a summons seeking to set aside leave to serve those proceedings on her out of the jurisdiction, on the basis that the only party with standing to assert any privilege or confidentiality in the documents or their contents was Advocate Sinel's client. At first instance the Royal Court of Jersey (Sir William Bailhache, Bailiff) acceded to that summons and set aside leave to serve proceedings out on Mdme. Hennessy, applying a little known decision of Blackburne J in Nationwide Building Society v Various Solicitors (No 2) [1998] All ER (D) 119 in which it was held that lawyers do not have standing to seek injunctive relief restraining infringement of privilege belonging to their clients.
On appeal to the Jersey Court of Appeal the order of the Royal Court was set aside. The Court of Appeal held that there was a good arguable case that Advocate Sinel had standing to sue for breach of confidence notwithstanding Nationwide (No 2). Of that decision Bompas JA said that "it is by no means certain that, were the facts of the Nationwide case again to come before the courts of England and Wales, the arguments or the result would be the same."
Bompas JA went further and observed that:
"As a matter of first impression, as it seems to us, it would be surprising if someone owing fiduciary duties and possessed of information confidential to the person to whom the duties are owed, should be unable to restrain the use of that information when obtained improperly, quite probably from the fiduciary but possibly in some manner which the fiduciary cannot explain. In the present case the fiduciary is an advocate providing legal services to clients and to that end entrusted with confidential information. But equally the fiduciary might be, say, a trustee entrusted by a beneficiary with confidential information about the beneficiary's circumstances to enable the trustee to exercise a power or discretion in relation to the beneficiary."
The case and these remarks in particular are likely to be of considerable significance, both to the substantial fiduciary services industries in Jersey and other offshore jurisdictions, and to those in professional or non-professional fiduciary relationships on the UK mainland. They illustrate how the laws of privacy and confidence continue to develop apace, particularly in light of the transition of the European Convention on Human Rights into domestic law.
The Court of Appeal's judgment may be found by clicking here.
View Nick's profile: Nick Pointon
If you would like to instruct Nick on a related matter please contact his clerks: 0117 923 4740 or 
Emma Zeb, a member of our specialist and complex inquest team, was instructed by Robert Hams, Partner at Wansbroughs to represent Gloucester Constabulary in an 8-day Article 2 inquest into the death of Mark Kentish.
A "failure of care" led to the death of Mark Kentish when he was tackled and restrained by a security guard and caretaker at Stowfield business park in Lydbrook two years ago, an inquest jury concluded.
Emma's role in this inquest is another example of her being instructed in a high profile inquest involving the examination of the duties, actions and management of agencies in the care of an individual.
After receiving the jury's conclusion, the assistant Gloucestershire Coroner Caroline Saunders made recommendations under Section 28 of the Coroners Regulations in a bid to prevent a similar tragedy happening in future.
View press: 
View profile: Emma Zeb
Andrew McLaughlin, who has been reappointed by the Attorney General to the Government A Panel of Counsel, has successfully defended a claim for £1.4m brought by Nicola Ward, a former Sergeant and nurse in the RAF, against the Ministry of Defence for devastating psychiatric injury allegedly caused by bullying and harassment at work between 2013 and 2015.
The Claimant was represented at trial by Mark Evans QC (Clerksroom) and Alex Fletcher (218 Strand) and for the previous three years by Jonathan Dingle (218 Strand). The case was listed for nine days at Oxford Combined Court Centre before the Designated Civil Judge HHJ Melissa Clarke.
Twelve witnesses were called by the Claimant, six by the Defendant. The Claimant alleged she had been unfairly upbraided by her senior commanding officer at the medical centre on base, was subjected by him to a campaign of discriminatory conduct, was excluded from the chain of command and the management team at the medical centre, stripped of Acting Flight Sergeant rank and the pay that came with it, humiliated in front of the nursing department, downgraded on a reference for promotion, and was then stalked after going off sick.
The Claimant and her witnesses were cross-examined by Andrew over four days before the defence witnesses were called. At the end of the witnesses' evidence on day 6 the Judge decided to rule on liability before the medical experts and employment consultants were due to be heard. HHJ Melissa Clarke rejected the entirety of the Claimant's allegations. She found the Claimant was neither bullied nor harassed. She held that the alleged stalking did not happen. The claim was dismissed with costs.
Andrew has been involved in a string of high-value stress-at-work, bullying and harassment claims which he has resisted successfully at trial, some of which are available on Lawtel.
If you would like to instruct Andrew on any related matter, please contact .
Personal injury and clinical negligence barrister, David Regan, has written an article for the New Law Journal titled 'Losing out on the lost years' in the 11 May 2018 issue.
The article reviews the developing law on claims for earnings for lost years, and the likelihood that the Supreme Court would allow children to make such claims.  This would have a significant impact on all claims for children whose lives are shortened by negligence.
The full article has been published today in the New Law Journal within their 'Damages' Legal Update section.
To view the full article please click here
View profile: David Regan
"St John's Chambers maintains an excellent reputation at the Personal Injury Bar, being home to a number of the foremost barristers in the space. Members act for both claimants and defendants in a wide array of claims, relating to such matters as RTAs, workplace accidents and occupational disease." Chambers UK, Personal Injury (2018)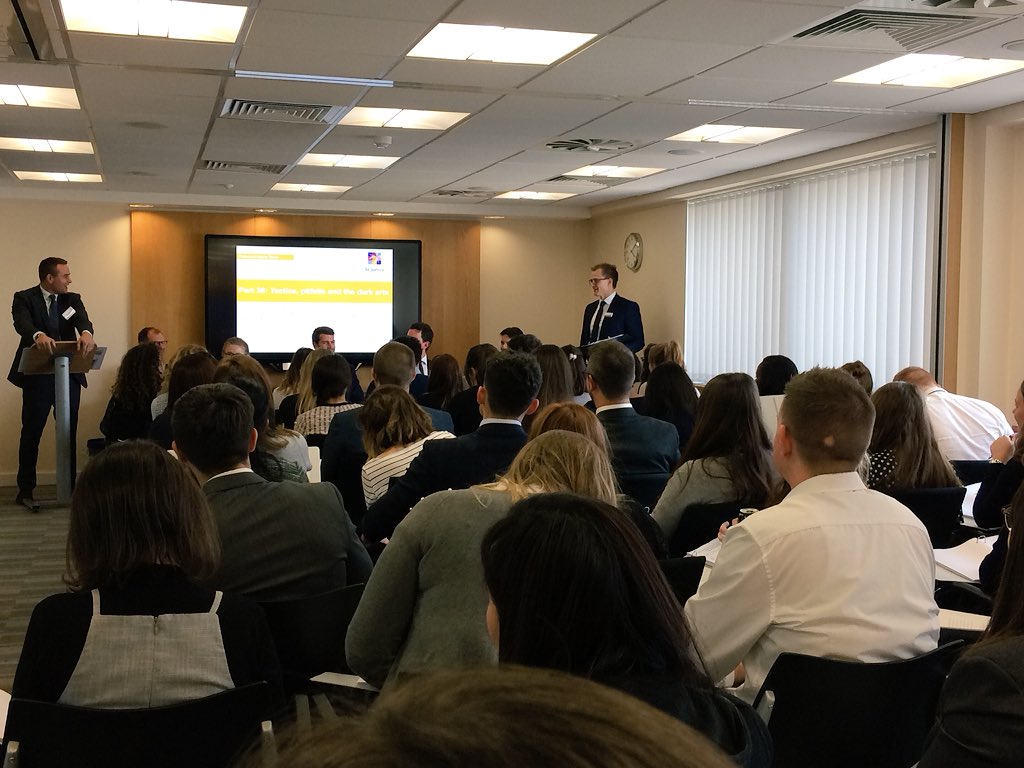 Earlier this week our junior personal injury and clinical negligence team ran their 'The Essential Toolkit for Junior Personal Injury & Clinical Negligence Lawyers' seminar for the second year running. The event, as last year, sold out in a matter of weeks so we shall be looking to run a similar event again later on this year.
Working from the delegate feedback at our previous events last year, this year saw the addition of longer parallel workshops and a "fast paced head line delivery" style first plenary session. In addition to our speakers: Marcus Coates-Walker, Ben Handy, James Marwick, Jimmy Barber, James Hughes & Robert Mills, we also welcomed our new personal injury and clinical negligence tenant, Rachel Segal, to the mix of speakers alongside our Head of Clinical Negligence, Vanessa McKinlay, who kindly chaired the event.
Talks from the day included a very popular 'mock CCMC performance' from Ben Handy (HHJ Handy); James Marwick (for the defendant) and James Hughes (for the claimant) which was described by delegates as a "very helpful demonstration" and "very entertaining, useful to see role play of hearing". Other sessions included: Are the courts re-defining the scope of the duty of care in clinical negligence?; A roundup of important decisions in 2017/2018: road traffic accidents, employers' liability and public liability; Part 35 and Part 18 questions: when and what to ask and when to answer; A roundup of important decisions in 2017/2018: clinical negligence; A workshop on fatal accident act claims and the final plenary: Part 36: tactics, pitfalls and the dark arts.
Delegates gave excellent feedback with comments such as:
"These sessions are great for junior lawyers & pitched at right level."
"Informative day and the choice of topics were all highly relevant and useful. Great, charismatic speakers, enjoyed the day."
"Very enjoyable session – well-presented and highly beneficial."
To follow live tweets from the day search #Essentialtoolkit18 on Twitter.
If you missed this event be sure to put you name down on our waiting list for the next one by contacting Anita Young on or 0117 923 4770.
Justin Valentine
, specialist personal injury and clinical negligence barrister, has published a case note about the recent case of G v NHS Commissioning Board, focussing on (i) Erb's palsy with potentially posterior shoulder dystocia and (ii) NHS resolution approach to settlement.
Shoulder dystocia is a serious complication of delivery where one of the baby's shoulders gets impeded usually behind the mother's symphysis pubis. It is an obstetric emergency which must be resolved quickly. It is associated with brachial plexus injury but there is a school of thought that such injury is entirely avoidable. In this case note Justin discusses the issues raised in a recent case of probable posterior shoulder dystocia which, in the event, was compromised.
Download article: G v NHS Commissioning Board
Justin undertakes clinical negligence work with experience of a wide variety of claims including spinal injury, nursing care, psychiatric treatment, cosmetic surgery errors, misdiagnosis/delay in diagnosis, orthopaedic injuries, incorrect prescription, negligent dental treatment, surgical injuries, catastrophic and fatal injury claims.
If you would like to instruct Justin on a related matter please email his clerks on: .