St John's Chambers identified by Legal 500 as a "preeminent set" with 45 barristers being ranked in the 2020 guide
3rd October 2019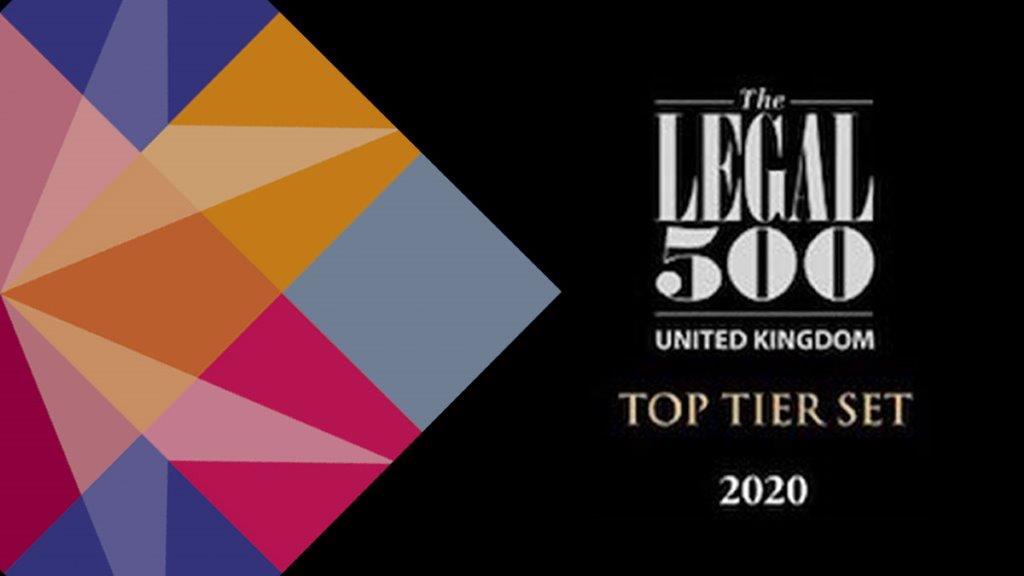 We are thrilled to announce that we have been recommended as a 'top-tier set', and listed in ten main areas of law in the 2020 edition of Legal 500. Three of our QCs are listed in the 'leading silks' list – a guide to outstanding silks nationwide.  45 of our barristers are listed in the 'leading juniors' list – a guide to outstanding juniors nationwide.
"For some, St John's Chambers is 'unquestionably the go-to set for private client litigation in the South West', while others say it is 'a must instruct for personal injury and clinical negligence', as well as covering the gamut of other practice areas including commercial, construction, and property law. In recent chambers news, dual-qualified Ryan Morgan, joined the family and divorce team. The 'excellent' clerks are 'always helpful and approachable, they are a main cog in the process of the great communication between instructing solicitor and barrister – they just get it'; chief executive Derek Jenkins heads the team that 'makes the lives of instructing solicitors so much easier, making the set feel like an extension of the solicitors' own departments and not a standalone body'. Practice managers Rob Bocock, Luke Hodgson, and Annette Bushell manage the commercial, family, and personal injury teams respectively."
Clinical Negligence
"Home to one of the preeminent clinical negligence teams in the region, with its members acting for both claimants and defendants across a wide range of complex cases. Key areas of work include delayed or mis-diagnoses, negligently performed surgery, and dental negligence, an area in which Robert Mills recently secured a record £160,000 damages for a claimant." Read more here.
Commercial
,

Banking

,

Insolvency

and

Chancery law
"Home to a large team of commercial practitioners who are instructed in a wide range of cases including professional negligence and breach of contract claims. The set also reports a substantial increase in the number of wills and trusts-related instructions received in the past year, with the set being praised by solicitors as 'the go-to chambers outside London' for this area of work. In one representative instruction of note, Leslie Blohm QC and Natasha Dzameh recently acted for the parents of a millionaire who died intestate, and where his wife was alleged to have forfeited her claim by unlawfully killing the deceased." Read more here.
Construction
,

Planning

and

Environment
"Particularly strong on large scale construction disputes, including adjudications, breach of contract claims, and high-value international arbitrations, where Andrew Kearney is a highly regarded practitioner. In a recent highlight, James Pearce-Smith represented the defendant developer in a dispute against a construction company; the claim settled following a  counterclaim against the contractor for failure to supply appropriate heating systems." Read more here.
Costs
"James Marwick and Darren Lewis at are the key members for costs work at St John's Chambers and are particularly experienced in costs arising from personal injury or clinical negligence claims. Marwick recently acted for the paying party in a case involving fixed recoverable costs in which the judge had allowed for significant counsel's fees over and above the fixed costs threshold." Read more here.
Court of Protection and community care
"Members frequently appear in the Court of Protection in cases concerning capacity to consent, deputy disputes, health and welfare proceedings, along with property and affairs." Read more here.
Family and children law
"Home to a large contingent of specialist family barristers, who provide 'great depth' across public and private children law cases, as well as all aspects of divorce and financial remedy work. Areas of specialism include international assets in finance cases, non-accidental injury matters involving complex causation evidence, and child maintenance, where Jody Atkinson is the key name to note." Read more here.
Inquests and inquiries
"The preeminent set for inquest work in the South West, with specialist areas including deaths in custody, care deaths, and fatal accidents. Notable recent instructions include self-inflicted custody death Re: Jeffery Griffiths, and Re: Christopher Clarke, which concerned a fatal workplace accident." Read more here. 
Personal Injury
"The personal injury team reports an increase in defendant work, with members acting for government departments, insurers, and employers, in addition to claimant work. Key areas of work include catastrophic injury, road traffic accidents, and cases involving allegations of fundamental dishonesty, as well as more niche areas such as Animals Act claims, where Richard Stead is the key practitioner. Industrial disease and workplace injury specialist Andrew McLaughlin successfully defended the Ministry of Defence in a £1.5m stress at work claim brought by a former RAF sergeant." Read more here.
Property
"Home to a large number of specialist members, who are experienced in commercial, agricultural, and residential property cases. In a recent highlight, Leslie Blohm QC and John Sharples recently acted for the respondent in the easements case of Haddock v Churston Golf Club."
Regulatory, health and safety, and licensing
"The Regulatory team are predominantly focused on health and safety and licensing matters. On the latter, Roy Light is particularly experienced on taxi and adult establishment licensing, acting for all parties in such cases as well as taking instructions for alcohol licensing work. On the health and safety front, Simon Morgan prosecuted Bridgend County Borough Council following a fatal accident involving a 15-year-old student at a school overseen by the local authority; the manner in which the parking area had been constructed some years earlier exposed pupils to significant risks."