Chambers shortlisted 'Regional Set of the Year' by Chambers Bar Awards 2019
10th September 2019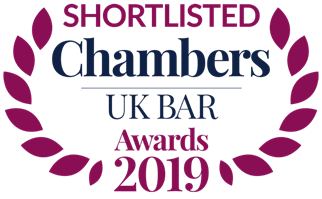 Chambers and Partners has announced the nominees for this year's Chambers UK Bar Awards 2019 and we are delighted that St John's Chambers has been shortlisted for 'Regional Set of the Year'. This year also sees Leslie Blohm QC being shortlisted for 'Chancery Silk of the Year'.
The awards are based on research carried out for the 2020 edition of Chambers Bar and reflect notable achievements over the past 12 months including outstanding work, impressive strategic growth and excellence in client service.
St John's Chambers aims to ensure that Bristol is recognised nationally as the legal hub for the South West and that we are able to compete with London for business. We have demonstrated excellence and innovation in the provision of legal services by being involved in a number of landmark decisions in both the High Court and the Court of Appeal. To be shortlisted for this award clearly demonstrates the high level complex instructions we are receiving from law firms across the UK, and our commitment to delivering client care of the very highest standards.
Leslie Blohm QC is one of the country's foremost chancery barristers with experience of appearing in front of the highest courts. He has recently appeared in a number of high profile proprietary estoppel cases including Davies v Davies (2014 and 2016), the 'Cowshed Cinderella' case, both at trial and on appeal twice; McDonald v Rose (2017), a £5 million claim against a substantial family business; Habberfield v Habberfield (2018), representing the claimant at trial who was awarded £1.15 million from her parents, and recently (2019) defending the award on appeal in the Court of Appeal and Gee v Gee (2018), where he represented the successful claimant at trial. Read more here.
The awards ceremony will take place in London on 31 October 2019. Read more here.