Second edition of the Dictionary of Private Children Law (2022) has been published
3rd February 2022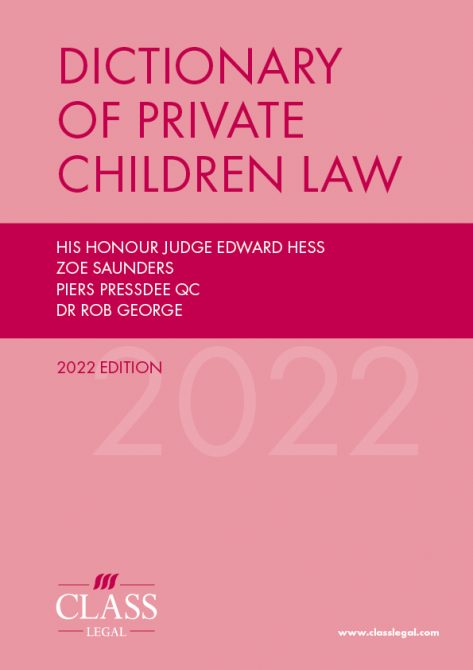 We are delighted to announce that the second edition of the Dictionary of Private Children Law (2022) co-written by Zoë Saunders has been published this month. This book is a unique reference guide to the key concepts, cases and practice of private children law.
This 2022 edition is fully updated to include changes and developments in the law from the last twelve months. New entries include: Port Alerts and Tipstaff Orders (Passport, Location and Collection Orders), Step-parent adoption, and Security for Costs.
The book is useful for every family law solicitor, barrister or legal executive advising clients on disputes about children after divorce or separation, as well as Family Court Judges, mediators, arbitrators, and other professionals involved in out of court dispute resolution.
Authors include: HHJ Edward Hess (Circuit Judge, Designated Family Judge & Deputy High Court Judge), Piers Pressdee QC (Barrister, 4PB) and Dr Rob George (Barrister, Harcourt Chambers).
Every family lawyer specialising in this field will find it fascinating to leaf through these pages and admire the way in which the authors have summarised the law so succinctly. They are to be congratulated and thanked for an excellent addition to the family law library."

The Right Honourable Lord Justice Baker
To pre-order a copy of the book, and to find out more information visit ClassLegal.com.
The process of writing a book: An interview with Dictionary of Private Children Law author, Zoë Saunders can be found here.