Leslie Blohm QC is awarded 'Chancery Silk of the Year' at the Chambers Bar Awards 2019
4th November 2019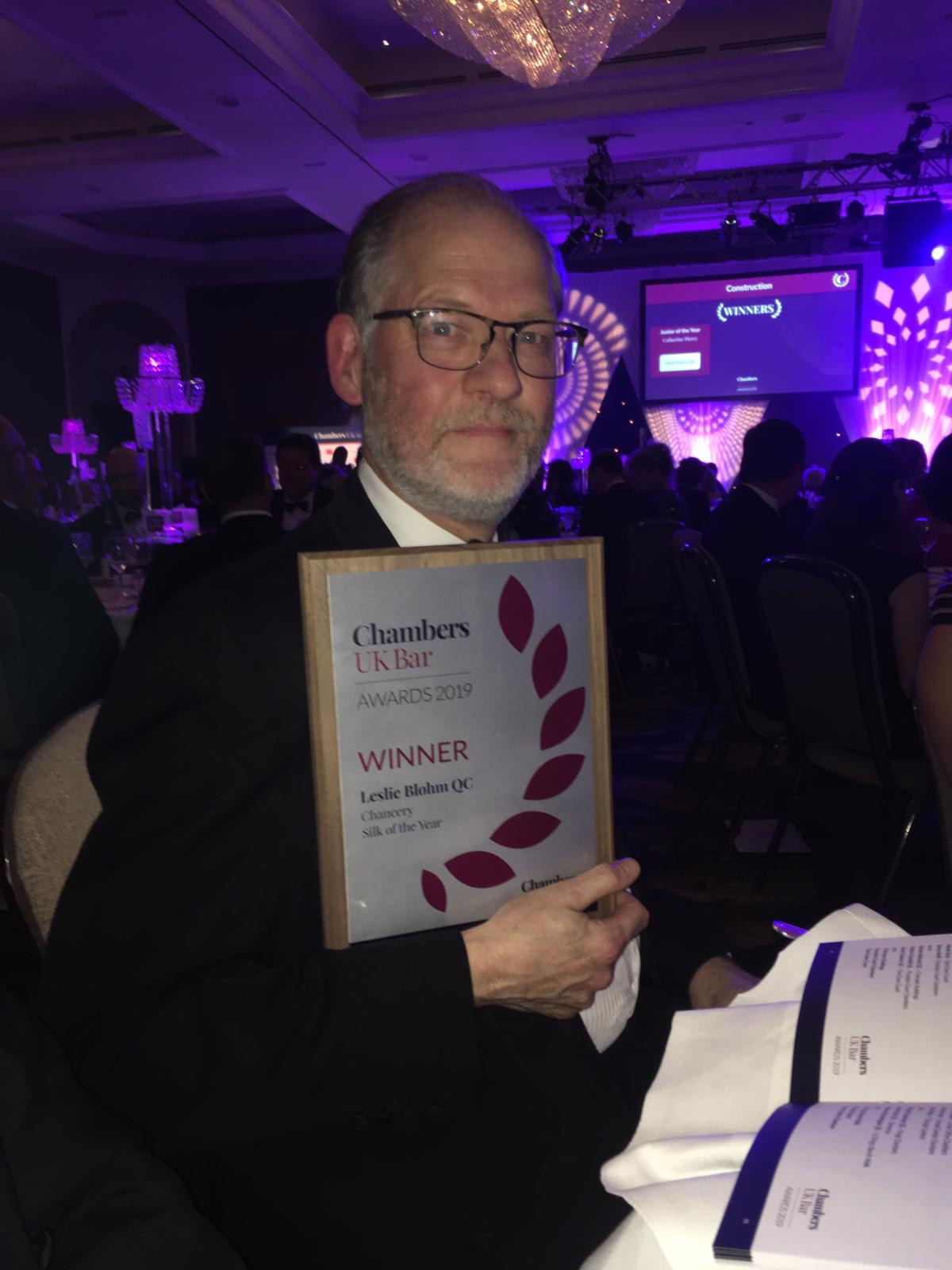 St John's Chambers is extremely pleased to announce that Leslie Blohm QC has won 'Chancery Silk of the Year' at the Chambers Bar Awards 2019, a prestigious award recognising Leslie's pre-eminence in his key practice areas. Leslie collected his award at the Hilton in London on 31st October 2019, where he was also joined by Chief Executive Derek Jenkins and his Clerk, Paul Bennett.
The awards are based on research for the 2020 edition of Chambers Bar and reflect notable achievements over the past 12 months including outstanding work, and excellence in client service. Based on Leslie's catalogue of high profile cases including in a number of proprietary estoppel cases (Davies v Davies, McDonald v Rose, Habberfield v Habberfield, and Gee v Gee) this award endorses his national reputation for his extensive experience at the Bar.
"Leslie is a first-class academic lawyer and an excellent court advocate. He's the go-to silk in this region, if not nationally, for proprietary estoppel matters." Chambers UK, 2020
Leslie is Joint Deputy Head of Chambers, and Head of Commercial & Chancery, leading a team of over 20 barristers. He is one of the Western Circuit's leading commercial and chancery silks, both in advisory work and in litigation in all Courts from the most local up to and including the House of Lords and the Supreme Court. He has over 30 years' experience of conducting contentious probate litigation, as well as dealing with commercial disputes and problems, and in particular those with a real property element. He is a Recorder, Deputy High Court Judge (Chancery), Bencher of Lincoln's Inn and member of the Editorial Board of The Conveyancer. He also sits as a Village Green inspector. Read more here.
We would like to take this opportunity to thank all our clients for their continued support and feedback provided to Chambers UK.