Search

Archive

Sign up to mailings

To keep up to date with our latest news and events, please sign up for mailings.

You are always free to unsubscribe at any time.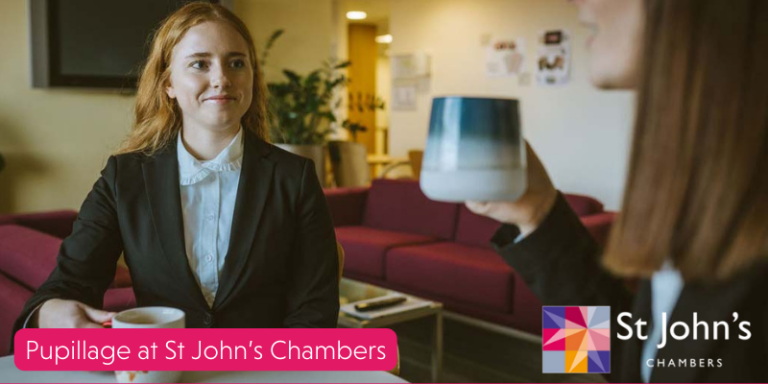 St John's Chambers is proud to announce that our three new pupils have now commenced their respective specialist pupillages within our successful Family & Divorce, Clinical Negligence & Personal Injury and Commercial & Chancery teams.
Chelsea Bartlett joins our Family & Divorce team under the supervision of experienced family barrister Ryan Morgan. Prior to starting pupillage, Chelsea undertook pro bono work at the Legal Advice Clinic (specialising in family law), the Litigant in Person Tribunal Service (for employment claims) and the StreetLaw Project which explained housing law/rights to schools and colleges. Subsequently, she worked as a legal advisor for Legal Expenses Insurance policyholders. Read more here.
I am looking forward to learning from the very best! I have a lot to learn about putting theory into practice so I will be absorbing absolutely everything that I can. I like the collegiate nature of Chambers, and not only do members help and support each other without batting an eyelid, Chambers itself is a well-oiled machine with everyone coming together to make matters run smoothly."

Chelsea Bartlett, Pupil
Nicole Hilton joins our Chancery and Commercial team as a pupil under the supervision of experienced chancery & commercial barrister Charlie Newington-Bridges. Prior to starting pupillage, Nicole worked in mortgage enforcement and as a paralegal on the Covid-19 public inquiry.  She has recently completed a commercial law LLM in 2022, focusing her dissertation on multimodal transport and international contracts. Read more here.
Pupillage is an excellent opportunity to receive feedback and build upon skillsets. I am keen to grow as much as possible in this next year, and I find great enjoyment in reflecting on my progress and development. I am looking forward to the feeling of having achieved something amazing. It is important to me that a pupillage programme challenges me whilst also providing me with an environment that allows me to ask questions and grow as a professional.  St John's Chambers has always stood out to me as not only a successful chambers that attracts excellent instructions, but also a collegiate and supportive set."

Nicole Hilton, Pupil
Sarah Riley joins our Personal Injury and Clinical Negligence teams as a pupil under the supervision of experienced personal injury barrister Jimmy Barber. Prior to starting pupillage, Sarah worked as a paralegal at Tayntons Solicitors for 3 years. She worked in the Personal Injury and Clinical Negligence department, gaining experience across a variety of cases, from low-value RTA claims, through to high-value clinical negligence disputes. Read more here.
I am really looking forward to the opportunity of learning from other members of chambers, seeing the type of work that they are instructed on, and how they would go about tackling issues that arise. I am keen to gain as much experience as possible during this year so that I can take that forward into my own practice. I am also really excited to get on my feet and to be dealing with my own cases! Pupillage is of course a stressful year, but I feel that St John's offers a supportive and collegiate environment to support me through the process."

Sarah Riley, Pupil
If you would like to find out more information about our pupils, please contact their clerks.