Commercial team newsletter – Autumn edition
21st November 2019
Barrister: Nick Pointon, Charlie Newington-Bridges, Annie Sampson, and Emma Price
Source: St John's Chambers
Summary: Welcome to the second edition of our new Commercial team newsletter, designed to bring you a selection of important and interesting updates in the world of commercial law. Each issue will feature four or five articles about interesting developments over the preceding months, together with a summary for those in a rush, and some useful practitioner's tips. Our newsletter will also keep you abreast of any important news, big wins or interesting cases in which members of our specialist Commercial team have acted.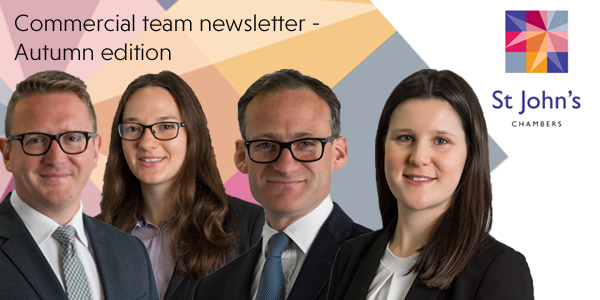 In this edition, Annie Sampson considers different approaches to the enforceability of agreements not to pursue existing claims following the Court of Appeal decisions of Simantob v Shavleyan [2019] EWCA Civ 1105 and Times Travel (UK) Ltd v Pakistan International Airlines Corporation [2019] EWCA Civ 828. Nick Pointon examines further developments in the concept of relational contracts in light of the recent High Court decision in Bates v Post Office Ltd (No. 3) [2019] EWHC 606 (QB). Emma Price addresses the burden of proof of inducement in misrepresentation claims and the principles applicable to recovering transferred losses following the Court of Appeal decision in BV Nederlandse Industrie Van Eiprodukten v Rembrandt Entreprises Inc [2019] EWCA Civ 596. Charlie Newington-Bridges analyses the principles applicable to challenges to arbitration awards under section 68 of the Arbitration Act 1996 as considered by the High Court in his recent case, Gracie v Rose [2019] EWHC 1176 (Ch).