AvMA 40th anniversary charity dinner – Bristol
Date: 26 May 2022
Starts: 6:15 pm
Ends: 10:00 pm
Venue: Harbour Hotel, 53-55 Corn St, Bristol BS1 1HT
Location: Bristol
Cost: £70 + VAT per ticket or £550 + VAT for a table of 8

Who should attend?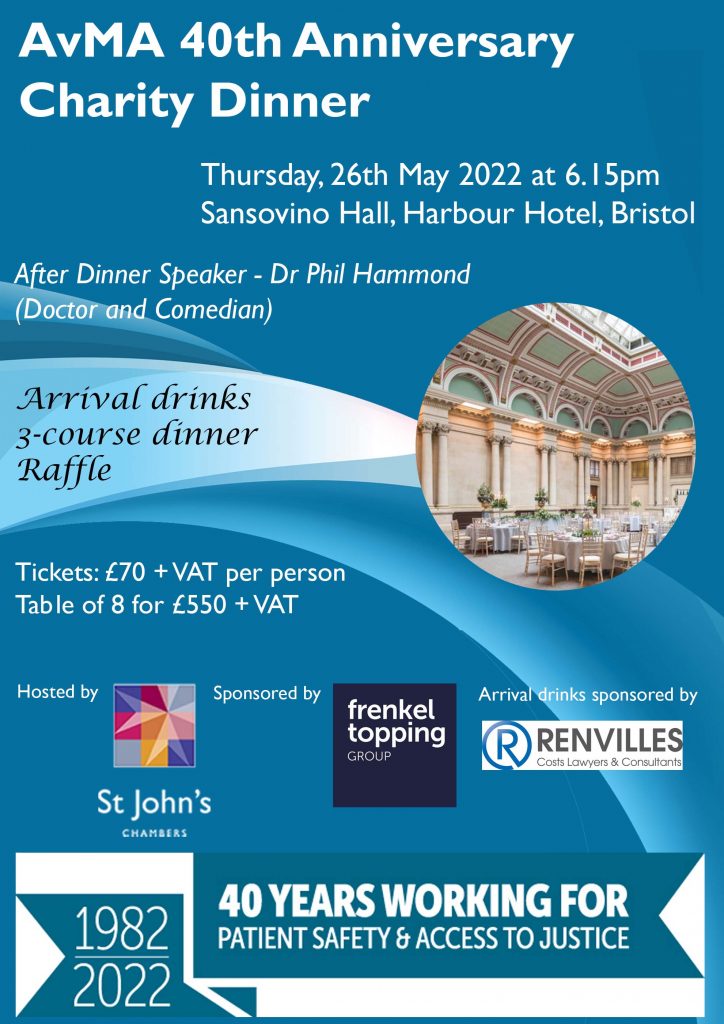 St John's Chambers is hosting a charity dinner on Thursday, 26th May at the Bristol Harbour Hotel, to raise funds for AvMA and to celebrate their 40th anniversary. This event will be sponsored by Frenkel Topping Group.
Guests will be greeted with a glass of bubbly on arrival – thanks to Renvilles Costs Lawyers & Consultants who are sponsoring the welcome drinks – followed by a talk from Chief Executive Peter Walsh of AvMA. Guests will then go on to enjoy a 3-course meal, and we will welcome special guest Dr Phil Hammond (Doctor and Comedian) as the after-dinner speaker.
AvMA is the UK charity celebrating for 40 years for patient safety and  justice. They support and empower people harmed by failures in patient safety to get justice, and to promote safer healthcare for all. Read more.
About Dr Phil Hammond
Doctoring used to be like Downing Street. Posh unaccountable alcoholics working silly hours, cocking up, covering up and laughing it off. Then I broke ranks and ruined it. For 37 years I've worked in the NHS and exposed its darkest secrets, on stage, screen and in print, including dozens of examples of unacceptable variations in the quality of care including the Bristol Heart Scandal. This lead to a huge public inquiry with nearly 300 recommendations promising to embed quality and safety into the heart of the NHS, and yet it's been followed by countless other appalling scandals, many involving mothers and babies. Indeed, the  NHS is still dangerously understaffed and error-strewn but thanks to the revolution I helped start, everybody knows it.  I've spawned an army of regulators, guidelines, lawyers and aggressively informed patients demanding excellent care in a collapsing service. You're even supposed to know what you're doing and prove it. Indeed, medicine is now so stressful and defensive that not one of the paediatric trainees in my region have opted to do the job full time and most GPs don't. This makes it ever more stressful and error-strewn for those who remain, and near impossible to get waiting lists down. Maternity services are perilously short-staffed, and their patients are now much heavier and higher risk. And with a pandemic to boot, universal care is now well and truly stuffed. But clinical negligence lawyers can still have a field day…
To book your place, please complete the booking form on the reverse of the flyer.